10-Night Trip
on
Pride of America
11-Day O'ahu Explorer Cruisetour

11-Day O'ahu Explorer Cruisetour
Hawaii is a magnificent meld of lush rainforests, sky-high waves, ancient kingdoms, World War II history and beauty of volcanic proportions. And now Norwegian Cruise Line lets you explore Oahu's top attractions in depth on a land-based tour before your 7-day cruise. Experience the traditions of some of Hawaii's original habitants at the Polynesian Cultural Center and Kualoa Ranch. Wander through the surfing town of Haleiwa, part of Oahu's legendary North Shore where surfers hang ten. Honor the lives lost at Pearl Harbor's USS Arizona Memorial, and walk in General MacArthur's footsteps on the Surrender Deck of the battleship USS Missouri.
This is the time to discover what paradise means to you, whether it's pounding the surf, exploring the mountains and untouched beauty of Kualoa Mountain Ridge, or learning an authentic hula dance. So much to see, do and experience. And it's all from Norwegian, the only cruise line to sail year-round from Honolulu.
Itinerary Map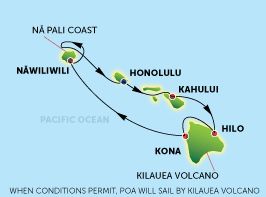 Dole Plantation and Polynesian Cultural Center
Pearl Harbor & Downtown Tour
Scenic South Shore / Kualoa Ranch Experience
Afternoon Cruise of the Napali Coast
Loading Itinerary Content...
Additional
Offers
Inside
Outside
Balcony
Suite

May 31, 2023

to

June 10, 2023

$3,591.13

Cat: IX

$359.11 per night

$3,768.95




Cat: OX




$376.90 per night

$4,396.57




Cat: BX




$439.66 per night

N/A

June 07, 2023

to

June 17, 2023

$4,166.44

Cat: IX

$416.64 per night

$4,427.95




Cat: OX




$442.80 per night

$5,128.79




Cat: BX




$512.88 per night

$7,743.87




Cat: SL




$774.39 per night

June 14, 2023

to

June 24, 2023

$3,821.25

Cat: IX

$382.13 per night

$4,030.46




Cat: OX




$403.05 per night

$4,658.08




Cat: BX




$465.81 per night

$7,137.17




Cat: SG




$713.72 per night

June 21, 2023

to

July 01, 2023

$3,925.86

Cat: IX

$392.59 per night

$3,978.16




Cat: OX




$397.82 per night

$4,605.78




Cat: BX




$460.58 per night

$6,457.25




Cat: SK




$645.73 per night

June 28, 2023

to

July 08, 2023

$3,925.86

Cat: IX

$392.59 per night

$3,978.16




Cat: OX




$397.82 per night

$4,605.78




Cat: BX




$460.58 per night

$6,582.77




Cat: SQ




$658.28 per night

July 05, 2023

to

July 15, 2023

$4,082.76

Cat: IX

$408.28 per night

$4,344.27




Cat: OX




$434.43 per night

$4,971.89




Cat: BX




$497.19 per night

$6,635.08




Cat: SQ




$663.51 per night

July 12, 2023

to

July 22, 2023

$3,821.25

Cat: IX

$382.13 per night

$3,925.86




Cat: OX




$392.59 per night

$4,814.98




Cat: BX




$481.50 per night

$7,743.87




Cat: SK




$774.39 per night

July 19, 2023

to

July 29, 2023

$3,925.86

Cat: IX

$392.59 per night

$4,553.48




Cat: OX




$455.35 per night

$4,971.89




Cat: BX




$497.19 per night

$7,430.06




Cat: SK




$743.01 per night

July 26, 2023

to

August 05, 2023

$3,768.95

Cat: IX

$376.90 per night

$3,925.86




Cat: OX




$392.59 per night

$4,867.28




Cat: BX




$486.73 per night

$7,220.85




Cat: SK




$722.09 per night

August 02, 2023

to

August 12, 2023

$3,873.56

Cat: IX

$387.36 per night

$3,925.86




Cat: OX




$392.59 per night

$4,553.48




Cat: BX




$455.35 per night

$6,582.77




Cat: SQ




$658.28 per night

August 09, 2023

to

August 19, 2023

$3,559.75

Cat: IX

$355.98 per night

$3,664.35




Cat: OX




$366.44 per night

$4,553.48




Cat: BX




$455.35 per night

$6,582.77




Cat: SI




$658.28 per night

August 16, 2023

to

August 26, 2023

$3,612.05

Cat: IX

$361.21 per night

$3,716.65




Cat: OX




$371.67 per night

$4,553.48




Cat: BX




$455.35 per night

$6,645.54




Cat: SK




$664.55 per night

August 23, 2023

to

September 02, 2023

$3,612.05

Cat: IX

$361.21 per night

$3,768.95




Cat: OX




$376.90 per night

$4,658.08




Cat: BX




$465.81 per night

$6,457.25




Cat: SQ




$645.73 per night

August 30, 2023

to

September 09, 2023

$3,768.95

Cat: IX

$376.90 per night

$4,030.46




Cat: OX




$403.05 per night

$4,814.98




Cat: BX




$481.50 per night

$6,750.14




Cat: SL




$675.01 per night

September 06, 2023

to

September 16, 2023

September 05, 2023

7:00 PM

$3,768.95

Cat: IX

$376.90 per night

$4,187.37




Cat: OX




$418.74 per night

$4,971.89




Cat: BX




$497.19 per night

$6,384.03




Cat: SQ




$638.40 per night

September 13, 2023

to

September 23, 2023

September 12, 2023

7:00 PM

$3,873.56

Cat: IX

$387.36 per night

$4,082.76




Cat: OX




$408.28 per night

$5,024.19




Cat: BX




$502.42 per night

$6,279.43




Cat: SQ




$627.94 per night

September 20, 2023

to

September 30, 2023

September 19, 2023

7:00 PM

$3,925.86

Cat: IX

$392.59 per night

$4,239.67




Cat: OX




$423.97 per night

$5,024.19




Cat: BX




$502.42 per night

$6,384.03




Cat: SQ




$638.40 per night

September 27, 2023

to

October 07, 2023

September 26, 2023

7:00 PM

$3,821.25

Cat: IX

$382.13 per night

$4,239.67




Cat: OX




$423.97 per night

$4,919.59




Cat: BX




$491.96 per night

$6,384.03




Cat: SQ




$638.40 per night

October 11, 2023

to

October 21, 2023

$3,821.25

Cat: IX

$382.13 per night

$4,082.76




Cat: OX




$408.28 per night

$4,971.89




Cat: BX




$497.19 per night

$6,384.03




Cat: SQ




$638.40 per night

October 18, 2023

to

October 28, 2023

$3,821.25

Cat: IX

$382.13 per night

$3,978.16




Cat: OX




$397.82 per night

$4,814.98




Cat: BX




$481.50 per night

$6,279.43




Cat: SQ




$627.94 per night

October 25, 2023

to

November 04, 2023

$3,768.95

Cat: IX

$376.90 per night

$3,873.56




Cat: OX




$387.36 per night

$4,762.68




Cat: BX




$476.27 per night

$6,122.52




Cat: SQ




$612.25 per night

November 01, 2023

to

November 11, 2023

$3,716.65

Cat: IF

$371.67 per night

$4,030.46




Cat: OK




$403.05 per night

$4,867.28




Cat: BF




$486.73 per night

$6,248.04




Cat: SJ




$624.80 per night

November 08, 2023

to

November 18, 2023

November 07, 2023

7:00 PM

$3,925.86

Cat: IF

$392.59 per night

$4,082.76




Cat: OK




$408.28 per night

$4,919.59




Cat: BF




$491.96 per night

$6,436.33




Cat: SK




$643.63 per night

November 15, 2023

to

November 25, 2023

November 14, 2023

7:00 PM

$4,030.46

Cat: IF

$403.05 per night

$4,082.76




Cat: OK




$408.28 per night

$4,814.98




Cat: BF




$481.50 per night

$6,509.55




Cat: SQ




$650.96 per night

November 29, 2023

to

December 09, 2023

November 28, 2023

7:00 PM

$3,507.45

Cat: IF

$350.75 per night

$3,873.56




Cat: OK




$387.36 per night

$4,658.08




Cat: BF




$465.81 per night

$6,300.35




Cat: SQ




$630.04 per night

December 06, 2023

to

December 16, 2023

December 05, 2023

7:00 PM

$3,507.45

Cat: IF

$350.75 per night

$3,768.95




Cat: OK




$376.90 per night

$4,658.08




Cat: BF




$465.81 per night

$5,913.31




Cat: SQ




$591.33 per night

December 13, 2023

to

December 23, 2023

December 12, 2023

7:00 PM

$3,768.95

Cat: IF

$376.90 per night

$3,821.25




Cat: OK




$382.13 per night

$4,553.48




Cat: BF




$455.35 per night

$6,750.14




Cat: SL




$675.01 per night

December 20, 2023

to

December 30, 2023

December 19, 2023

7:00 PM

$4,658.08

Cat: IF

$465.81 per night

$4,919.59




Cat: OK




$491.96 per night

$6,017.92




Cat: BF




$601.79 per night

$9,260.61




Cat: SQ




$926.06 per night

December 27, 2023

to

January 06, 2024

December 26, 2023

7:00 PM

$4,396.57

Cat: IF

$439.66 per night

$4,501.17




Cat: OK




$450.12 per night

$5,651.81




Cat: BF




$565.18 per night

$8,528.39




Cat: SQ




$852.84 per night

January 03, 2024

to

January 13, 2024

$3,829.25

Cat: IF

$382.93 per night

$4,090.76




Cat: OK




$409.08 per night

$4,822.98




Cat: BF




$482.30 per night

$6,496.63




Cat: SQ




$649.66 per night

January 10, 2024

to

January 20, 2024

$3,756.03

Cat: IF

$375.60 per night

$4,038.46




Cat: OK




$403.85 per night

$5,136.79




Cat: BF




$513.68 per night

$5,921.31




Cat: SQ




$592.13 per night

January 17, 2024

to

January 27, 2024

$3,776.95

Cat: IF

$377.70 per night

$3,986.16




Cat: OK




$398.62 per night

$5,032.19




Cat: BF




$503.22 per night

$6,025.92




Cat: SQ




$602.59 per night

January 24, 2024

to

February 03, 2024

$3,620.05

Cat: IF

$362.01 per night

$3,881.56




Cat: OK




$388.16 per night

$5,189.09




Cat: BF




$518.91 per night

$5,921.31




Cat: SQ




$592.13 per night

January 31, 2024

to

February 10, 2024

$3,756.03

Cat: IF

$375.60 per night

$3,881.56




Cat: OK




$388.16 per night

$5,032.19




Cat: BF




$503.22 per night

$5,921.31




Cat: SQ




$592.13 per night

February 07, 2024

to

February 17, 2024

February 06, 2024

7:00 PM

$3,776.95

Cat: IF

$377.70 per night

$4,090.76




Cat: OK




$409.08 per night

$5,032.19




Cat: BF




$503.22 per night

$6,245.58




Cat: SQ




$624.56 per night

February 14, 2024

to

February 24, 2024

February 13, 2024

7:00 PM

$3,829.25

Cat: IF

$382.93 per night

$4,299.97




Cat: OK




$430.00 per night

$5,032.19




Cat: BF




$503.22 per night

$6,339.73




Cat: SQ




$633.97 per night

February 21, 2024

to

March 02, 2024

February 20, 2024

7:00 PM

$3,756.03

Cat: IF

$375.60 per night

$3,881.56




Cat: OK




$388.16 per night

$4,770.68




Cat: BF




$477.07 per night

$6,235.12




Cat: SQ




$623.51 per night

February 28, 2024

to

March 09, 2024

February 27, 2024

7:00 PM

$3,829.25

Cat: IB

$382.93 per night

$4,090.76




Cat: OK




$409.08 per night

$4,927.59




Cat: BF




$492.76 per night

$6,130.52




Cat: SK




$613.05 per night

March 06, 2024

to

March 16, 2024

$3,776.95

Cat: IF

$377.70 per night

$4,247.67




Cat: OK




$424.77 per night

$5,032.19




Cat: BF




$503.22 per night

$5,952.70




Cat: SQ




$595.27 per night

March 13, 2024

to

March 23, 2024

$3,776.95

Cat: IF

$377.70 per night

$4,195.37




Cat: OK




$419.54 per night

$4,927.59




Cat: BF




$492.76 per night

$6,235.12




Cat: SQ




$623.51 per night

March 20, 2024

to

March 30, 2024

$3,724.65

Cat: IF

$372.47 per night

$4,038.46




Cat: OK




$403.85 per night

$4,770.68




Cat: BF




$477.07 per night

$6,235.12




Cat: SQ




$623.51 per night

March 27, 2024

to

April 06, 2024

$3,724.65

Cat: IF

$372.47 per night

$3,986.16




Cat: OK




$398.62 per night

$4,666.08




Cat: BF




$466.61 per night

$6,235.12




Cat: SQ




$623.51 per night

April 03, 2024

to

April 13, 2024

$3,756.03

Cat: IF

$375.60 per night

$4,038.46




Cat: OK




$403.85 per night

$4,770.68




Cat: BF




$477.07 per night

$6,287.43




Cat: SQ




$628.74 per night

April 10, 2024

to

April 20, 2024

$3,756.03

Cat: IF

$375.60 per night

$4,038.46




Cat: OK




$403.85 per night

$4,770.68




Cat: BF




$477.07 per night

$6,235.12




Cat: SQ




$623.51 per night

April 17, 2024

to

April 27, 2024

$3,756.03

Cat: IF

$375.60 per night

$4,090.76




Cat: OK




$409.08 per night

$4,770.68




Cat: BF




$477.07 per night

$6,287.43




Cat: SQ




$628.74 per night

April 24, 2024

to

May 04, 2024

$3,756.03

Cat: IF

$375.60 per night

$4,038.46




Cat: OK




$403.85 per night

$4,822.98




Cat: BF




$482.30 per night

$6,287.43




Cat: SQ




$628.74 per night

May 01, 2024

to

May 11, 2024

$3,881.56

Cat: IF

$388.16 per night

$4,247.67




Cat: OK




$424.77 per night

$4,875.28




Cat: BF




$487.53 per night

$6,412.95




Cat: SQ




$641.30 per night

May 08, 2024

to

May 18, 2024

$3,881.56

Cat: IF

$388.16 per night

$4,247.67




Cat: OK




$424.77 per night

$4,822.98




Cat: BF




$482.30 per night

$6,475.71




Cat: SQ




$647.57 per night

May 15, 2024

to

May 25, 2024

$3,881.56

Cat: IF

$388.16 per night

$4,247.67




Cat: OK




$424.77 per night

$4,875.28




Cat: BF




$487.53 per night

$6,475.71




Cat: SQ




$647.57 per night

May 22, 2024

to

June 01, 2024

$3,881.56

Cat: IF

$388.16 per night

$4,247.67




Cat: OK




$424.77 per night

$4,875.28




Cat: BF




$487.53 per night

$6,475.71




Cat: SQ




$647.57 per night

May 29, 2024

to

June 08, 2024

$3,986.16

Cat: IF

$398.62 per night

$4,247.67




Cat: OK




$424.77 per night

$4,875.28




Cat: BF




$487.53 per night

$6,915.04




Cat: SQ




$691.50 per night

June 05, 2024

to

June 15, 2024

$3,933.86

Cat: IF

$393.39 per night

$4,299.97




Cat: OK




$430.00 per night

$4,979.89




Cat: BF




$497.99 per night

$7,364.84




Cat: SQ




$736.48 per night

June 12, 2024

to

June 22, 2024

$3,986.16

Cat: IF

$398.62 per night

$4,352.27




Cat: OK




$435.23 per night

$5,136.79




Cat: BF




$513.68 per night

$6,915.04




Cat: SQ




$691.50 per night

June 19, 2024

to

June 29, 2024

$3,933.86

Cat: IF

$393.39 per night

$4,299.97




Cat: OK




$430.00 per night

$5,136.79




Cat: BF




$513.68 per night

$6,915.04




Cat: SQ




$691.50 per night

June 26, 2024

to

July 06, 2024

$3,933.86

Cat: IF

$393.39 per night

$4,299.97




Cat: OK




$430.00 per night

$5,136.79




Cat: BF




$513.68 per night

$7,071.95




Cat: SL




$707.20 per night

July 03, 2024

to

July 13, 2024

$3,881.56

Cat: IF

$388.16 per night

$4,247.67




Cat: OK




$424.77 per night

$4,927.59




Cat: BB




$492.76 per night

$6,956.88




Cat: SQ




$695.69 per night

July 10, 2024

to

July 20, 2024

$3,881.56

Cat: IF

$388.16 per night

$4,247.67




Cat: OK




$424.77 per night

$4,927.59




Cat: BF




$492.76 per night

$6,946.42




Cat: SQ




$694.64 per night

July 17, 2024

to

July 27, 2024

$3,881.56

Cat: IF

$388.16 per night

$4,247.67




Cat: OK




$424.77 per night

$4,927.59




Cat: BF




$492.76 per night

$6,956.88




Cat: SQ




$695.69 per night

July 24, 2024

to

August 03, 2024

$3,881.56

Cat: IF

$388.16 per night

$4,247.67




Cat: OK




$424.77 per night

$4,927.59




Cat: BF




$492.76 per night

$6,946.42




Cat: SQ




$694.64 per night

July 31, 2024

to

August 10, 2024

$3,776.95

Cat: IF

$377.70 per night

$4,143.06




Cat: OK




$414.31 per night

$4,718.38




Cat: BF




$471.84 per night

$6,862.74




Cat: SQ




$686.27 per night

August 07, 2024

to

August 17, 2024

$3,881.56

Cat: IF

$388.16 per night

$4,090.76




Cat: OK




$409.08 per night

$4,666.08




Cat: BF




$466.61 per night

$6,862.74




Cat: SQ




$686.27 per night

August 14, 2024

to

August 24, 2024

$3,776.95

Cat: IF

$377.70 per night

$4,090.76




Cat: OK




$409.08 per night

$4,666.08




Cat: BF




$466.61 per night

$6,569.85




Cat: SQ




$656.99 per night

August 21, 2024

to

August 31, 2024

$3,724.65

Cat: IF

$372.47 per night

$4,038.46




Cat: OK




$403.85 per night

$4,718.38




Cat: BF




$471.84 per night

$6,287.43




Cat: SQ




$628.74 per night

August 28, 2024

to

September 07, 2024

$3,672.35

Cat: IF

$367.24 per night

$3,986.16




Cat: OK




$398.62 per night

$4,666.08




Cat: BF




$466.61 per night

$6,287.43




Cat: SQ




$628.74 per night

September 04, 2024

to

September 14, 2024

September 03, 2024

7:00 PM

$3,881.56

Cat: IF

$388.16 per night

$4,090.76




Cat: OK




$409.08 per night

$4,770.68




Cat: BF




$477.07 per night

$6,287.43




Cat: SQ




$628.74 per night

September 11, 2024

to

September 21, 2024

September 10, 2024

7:00 PM

$3,724.65

Cat: IF

$372.47 per night

$4,038.46




Cat: OK




$403.85 per night

$4,770.68




Cat: BF




$477.07 per night

$6,287.43




Cat: SQ




$628.74 per night

September 18, 2024

to

September 28, 2024

September 17, 2024

7:00 PM

$3,672.35

Cat: IF

$367.24 per night

$4,038.46




Cat: OK




$403.85 per night

$4,718.38




Cat: BF




$471.84 per night

$6,287.43




Cat: SQ




$628.74 per night

September 25, 2024

to

October 05, 2024

September 24, 2024

7:00 PM

$3,672.35

Cat: IF

$367.24 per night

$4,038.46




Cat: OK




$403.85 per night

$4,718.38




Cat: BF




$471.84 per night

$6,287.43




Cat: SQ




$628.74 per night